Born in 1904, Herman De Cuyper belonged to the "Generation of 1900". In fact, these were the artists of the Interbellum, who succeeded the generation of the expressionists. They were subjected to the dominance of Flemish expressionism, which urged to deformation and even malformation of reality. But as from 1930, the sculptors showed a tendency towards "back to nature". Paul Haesaerts (1901-1974) – an important Belgian art critic – published a book in 1942, in which he gave a name to this way of thinking of the "retour à l'humain", i.e. animism. He unfortunately named the anthropological notion the way he did and borrowed the term from an anthropologist called E.B. Tylor, who developed the idea in his book Primitive Culture (1871) that a soul inhabits all objects as a basis of the coming into being of primitive religion. Later, Haesaerts, driven by criticism to do so, also used the terms "réalisme poétique" and intimism. Although the terms intimism and intimist much better reflect the spiritual state of these artists, the notion animism and the movement of animists is still to date the most commonly used term in the literature. It is rather the approach or attitude towards a reality that is perceived as a spiritualised harmony and suggested as such in the plastic representation. They try to lay a soul, a spirit (to in-spire) in their forms to evoke the deeper content behind what is actually depicted.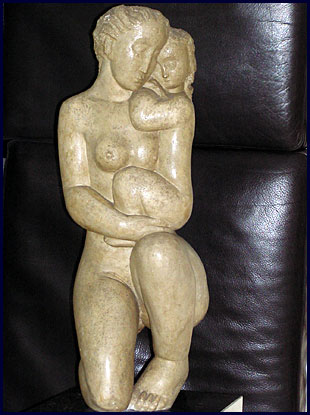 Kneeling mother and child, 1954 (Scaldis 1956)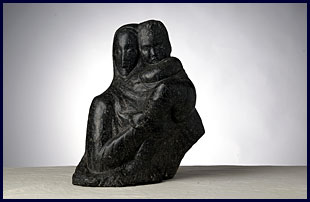 Mother and child, bluestone, 1940 (Middelheim, 1952)
Herman De Cuyper got acquainted with Paul Haesaerts only after the latter published about animism.

Young girl, cherry, 1937 (Apport, 1942)
As an expert he even purchased works for third parties and invited the artist to exhibit his work as the sole "sculpteur invité" at the summer salon of the group Apport (1942) in the Galeries Apollo in Brussels. After World War II, De Cuyper practically never exhibited, although he was present at the opening exhibit of Middelheim in 1952 with a taille directe in bluestone: Mother and child (1940).
His beautiful Kneeling mother and child (1954) was also exhibited at the big travelling Scaldis-exhibition in Antwerp in 1956.