| | |
| --- | --- |
| | |
| Mask of Charlene, terracotta (ca. 1932) | |
The impressionist way of modelling, a technique Herman De Cuyper had learned with Blickx and that actually originated from the famous French sculptor Rodin, is described in professional terms as "bossage vermiculé". The physiognomy of the sculpture was animated by a treatment with small particles of clay. The intention was to have a light-vibrating surface, once the model had received its final shape in bronze. The technique was fully tuned in on the practice of bronze casting. Most of the time, Herman De Cuyper converted his modelled works himself into durable materials like wood and stone because bronze was too expensive.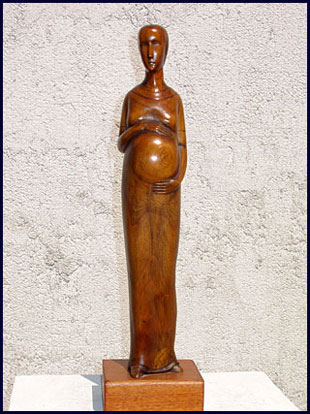 Pregnancy, chrerry, (ca. 1937)
His monumental works were casted by the artist himself in artificial stone (a mixture of white cement, marble flower and sand). Without neglecting the modelling in clay, De Cuyper became a master of the "taille directe" in natural stone and wood. He developed through the praxis this difficult but beloved technique par excellence of the real sculpture.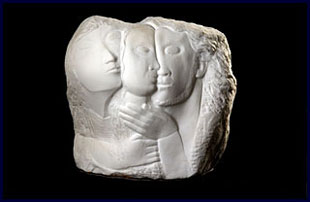 three-Unity, marble, taille directe (ca. 1977)
At the end of his furniture wood carving period in 1930, he sought co-operation with stone carvers to make tomb monuments in nearby cemeteries. Thanks to his training he already mastered the wood gouging carving technique. He learned all of the technical mastering of stone carving in natural stone with the stonedressers. Initially he worked on bluestone and marble, whereas in a later stage he chose various kinds of natural stone like euville, brouvillers, pouillenay and pink Alsatian sandstone (grès rose d'Alsace) to mention but a few.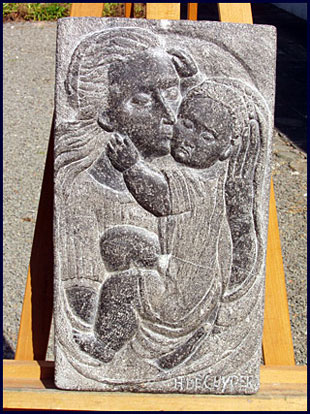 Mother and child , bluestone(ca. 1950)
| | | |
| --- | --- | --- |
| | | |
| Standing nude , plaster (ca. 1949) | | Shy, bluestone (ca. 1947) |
| | | |
| | | |
| Eva, oak (ca. 1969) | | |